Parco delle Piscine offers camping and caravan holidays at Sarteano
This magnificent parc is ideal for sightseeing or relaxing. Parco delle Piscine is absolutely first class and set within a parkland area of the gorgeous Tuscan countryside, in the small town of Sarteano, with its medieval hilltop castle. It's proven to be immensely popular with our customers. The focal points within the parc itself are the swimming pools and children's pool which are actually fed by running thermal springwater at a constant 24C. One pool is exclusive to the parc guests and is open from the end of June, whereas the other two are open to the public. You will also find tennis courts and a pool bar that is perfect for long, relaxing evenings. The parc's central location also puts many of Italy's most important historical sights close to hand. The surrounding area is also famous for its spa towns and a holiday wouldn't be complete without a visit to the spas at Chianciano, San Casciano or San Filippo.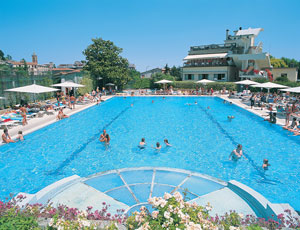 Sarteano
Tuscany
More Info / Book Now

Site Facilities
Eurocamp have a range of Caravan accommodation available at this park. Click on the Booking link for details.